About Enterprise Games  
Enterprise Games is a leading provider of out of print, used and new gaming products. We carry a full range of games, but specialize in board wargames. The majority of our business is done via mail order, but we also attend many gaming conventions and shows.
We have been in business since 1994 with many satisfied and loyal customers. References are available upon request.
Military history and gaming is Don's hobby.  He started gaming in the early 1960's, first with games like the Milton Bradley American Heritage series and then he discovered Avalon Hill - Stalingrad and Waterloo being his first purchases.  While attending Purdue University, he became a member of the Purdue Wargamers club and expanded into SPI games and then ancient miniatures.  Today he participates in several local gaming groups when he has the spare time.
We are constantly adding to our inventory, so if you don't see a game that you need, let us know. We gladly take want lists and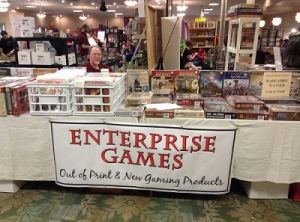 will let you know if we come across your game.
If you are looking to sell your game collection or portions of it, we would be glad to offer you a price. As an option, we can also offer to sell your collection on consignment. For large collections, we can travel throughout the Midwest United States.